Disaster Management

Permanent Disasters

Upcoming Training/Workshop


Apply for Training @Shantikunj
Apply for Training Workshop

Recent Relief Work

Latest Disaster Updates

Notice Board

AWGP DM team work on 3 phase:

Rescue

(बचाव कार्य)
Relief (

राहत

)
Rehabilitation(

पुनर्वास

)
Donation - Contribute
Shantikunj Apda Rahat Kosh
A/c Shri VedMata Gayatri Trust
A/C No. 30491675367 ( S.B.I. )
Spiritual sadhana (self refinement) is practiced to attain self-awakening. The starting point of any sadhana is self - introspection. Understanding the falsity of our egocentric identity through introspection is the first essential prerequisite on the path of self-realization. It enables the sadhak to pinpoint the ignorance-bred negativities lodged in the depths of our psyche.
Related Images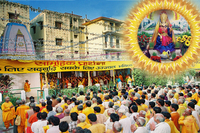 Latest Happening News/Activities
Recent Videos