Disaster Management

Permanent Disasters

Upcoming Training/Workshop

Recent Relief Work

Latest Disaster Updates

Notice Board

AWGP DM team work on 3 phase:

Rescue

(बचाव कार्य)
Relief (

राहत

)
Rehabilitation(

पुनर्वास

)
Donation - Contribute
Disaster Relief Fund(आपदा राहत कोष)
A/C No. 30491675367 ( S.B.I. )
Related Images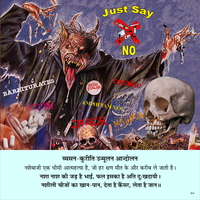 Latest Happening News/Activities
व्यसन मुक्ति रैली , अहमदाबाद
अहमदाबाद । पूरा विश्व 31 मई को विश्व तम्बाकू निषेध दिवस के रूप में मनाता है; ऐसे में भारत की अग्रणी सामाजिक संस्था अखिल−विश्व गायत्री परिवार की गुजरात ईकाई ने 2014 का विश्व तम्बाकू निषेध दिवस कुछ अलग अन्दाज में मनाया; संस्था के युवा प्रकोष्ठ द्वारा राज्य के तमाम जिलों में व्यसन मुक्ति रथयात्रा सप्ताह मनाया गया जिसके अन्तर्गत प्रत्येक गांव में व्यसन मुक्ति रथ यात्रा के माध्यम से तम्बाकू के दुष्परिणामों के बारे में व्यक्तियों को समझाकर ...
DIYA Mumbai Organize, Mega DE-addiction and Oral Hygiene Camp :
24th August ,Saturday was a life transforming day for the 250 plus students of Trombay Public High School.Populated densely by muslim students the major challenges facing ...
Recent Videos
| | | | |
| --- | --- | --- | --- |
| Nepal earthquake relief work | All World Gayatri p... | Nepal Earth Quake Relief helping in Gayatri Pari... | Uttarakhand Flood Relief Programme Help of Shanti... | Uttarakhand Disaster Relief Work At Shantikunj Har... |